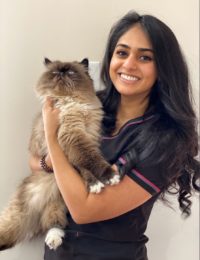 Linoy joined the Heart Lake Veterinary Hospital team in 2013 as a high school co-op student. Since then, she attended Trent University and obtained her Honors of Biology while working at Heart Lake Vet during summer breaks.
During her university career she learned to work with many different animals such as cattle and small mammals, reptiles, and amphibians – providing animal care.
Linoy always had a passion for the veterinary field from a very young age. She aspires to support as well as further her passion with education and clinical experience. The most rewarding aspect of her job is assisting with treatment and being a part of her patients' healing process.
When she's not at work she enjoys traveling as well as spending time with family and friends.
You will most likely meet Linoy at the reception desk or in the treatment area providing care for your furry family members!