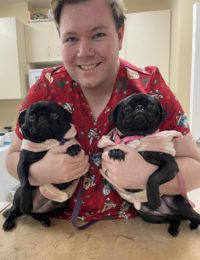 Nicholas, or simply Nick as some may know him, has always had a passion for animal care and veterinary medicine since he was young. Nicholas went off to graduate from the Veterinary Technology Program at Ridgetown College in 2016. Nicholas' passion for education continued and brought him back to school to complete and graduate with an Honours Bachelors of Science degree in Animal Biology from the University of Guelph. Along the way he had met a lot of his closest and best friends, and found the love of his life.
His journey was very different, working in various veterinary fields like large animal, small animal and laboratory practices. All of these experiences allowed him to explore his love for all animals, from the very smallest to the very largest! During his time in school, he had many volunteer opportunities, extracurriculars and part time jobs. He definitely loves to keep busy!
Nicholas began his career as an RVT at Heart Lake Veterinary Hospital in August 2020! For those who know Nicholas, they know how much he loves to educate clients on the importance of Pet Nutrition, healthy feeding and weight management. In his spare time, he is researching and continuing to learn how to make the world of pet nutrition a better place.
Nicholas has a strong love for horses and small breed dogs, and enjoys spending time with his loving family and friends. He dearly misses his passed pets and is currently waiting for the right ones to come along.
Nicholas believes that the best way to ensure healthy, happy and long lives in pets, is through proper feeding and nutrition. Nutrition is truly an extraordinary science that has a whole body influence on our pets health and well-being. From sick to healthy, pets can be their happiest and healthiest on the proper and most perfect diet for them on an individual basis!