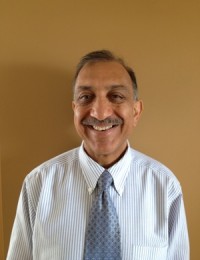 Dr. Varma graduated as a veterinarian in 1980 from the University of Nairobi (Kenya). At that time his special interest was in African wildlife. He spent the next 3 years working as a wildlife research veterinarian in Kenya. This was "real" wildlife like hyenas, lions, water-buck, eland, and buffalo. In 1984 he received a scholarship to do a Master's Degree in Veterinary Science at the University of Edinburgh (Scotland). Dr. Varma then immigrated to Canada in 1987 and worked for a few months at the Ontario Veterinary College while preparing for his Ontario licensing exams. He worked at various clinics in Toronto and Brampton before finally setting up Heart Lake Veterinary Hospital in 1995.
Dr. Varma is proud to be a veterinarian and endeavors to give back to the profession in mentoring veterinary students and foreign graduates to acquire local licenses. He has held the following positions
Past President of the Brampton Veterinary Association
Past President of The Highway 10 & Wexford Emergency Veterinary Clinic serving Georgetown, Milton, Orangeville, Bolton, Caledon, and Brampton.
Council member for the College Of Veterinarians Of Ontario, the regulatory body for the veterinary profession in Ontario.
Treasurer of the Kenya Overseas Veterinary Association, whose mandate includes helping veterinary students and the profession in Kenya.
He is a co-owner of the Erin Mills Pet hospital in Mississauga.
He shares his home with his wife, Poonam, their 2 children, Ashna and Vishal.
When not at work, Dr. Varma likes to travel and spend his few free minutes at the gym.