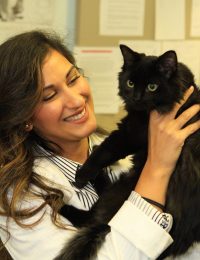 Education: University of Western Ontario Bachelor of Science, University of Edinburgh: Royal (Dick) School of Veterinary Studies; Bachelor of Veterinary Medicine and Surgery, Member of the Royal College of Veterinary Surgeons
Dr. Varma graduated from the University of Edinburgh Veterinary School in Scotland, in July of 2014, where she took advantage and travelled around the UK for veterinary student volunteer opportunities during her veterinary studies. She began her full time career at Heart Lake Veterinary Hospital in May of 2019, but has done some relief work with us for several years! Her medical interests lie in internal medicine and dentistry. Her hobbies include running, reading, and spending time with her family. Dr. Varma also dedicates time annually volunteering with First Nations Communities to provide veterinary care where needed.
Dr. Varma dearly misses her dog Kenya, her first Golden Retriever puppy, and had since also adopted a 9 year old abandoned, but very loyal, German Shepherd, Sam, who sadly succumbed to an incurable bone disease. Dr. Varma now houses 2 kitty fur babies, Moshi & Kibo.
Dr. Varma believes in creating an important bond between client, patient, and veterinarian in order to ensure a great quality of life for our pets. By focusing on preventive medicine for each individual patient, she believes that our pets can live the longest, healthiest, most comfortable lives possible.