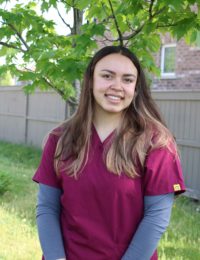 Alyssa graduated with bachelors in biomedical science from the University of Guelph in 2020. She is now entering her second year at the Ontario Veterinary College.
She has been around every animal in the kitchen sink (some too big to fit in it) since childhood, and so she aims to pursue mixed animal medicine.
Her family includes an ex-race horse named Annie and a cockatiel named Glen Coco. Around the clinic, she is also known as the "bear lady" with three bears (Bouvier Des Flandres dogs) named Mr. Alfredo, Juniper & Lord Hawthorn. All she needs is golden locks & she's set!
When Alyssa's not around animals, she's volunteering restoring antique wooden boats, enjoying classic rock or a glass of a full-bodied GSM blend. She is also a fanatic hobby chef – Mr. Alfredo, Juniper & Lord Hawthorn enjoy being her taste-testers very much!
She looks forward to meeting you & your precious furry friends!